Where Family Law and Estates Intersect
Introduction In addition to the two legal estates inland, it is also possible to have an interest inland. This is a lesser right over the land which falls short of possession. Anyone can own an interest in land. It is not always necessary to own land to have an interest inland. For example, à privilege, […]
Where Family Law and Estates Intersect
Introduction
In addition to the two legal estates inland, it is also possible to have an interest inland. This is a lesser right over the land which falls short of possession.
Anyone can own an interest in land.
It is not always necessary to own land to have an interest inland. For example, à privilege, or 'profit a prendre', allows the owner of that interest to enter a person's land in order to take produce from it, such as crops or firewood, without actually being the owner of any land themselves.
Aim Higher
There are exceptions to this rule, as easement can only benefit an individual as the owner of the benefited land. This is discussed in further detail in Chapter 9.
As a property right, an interest in land can be sold by the owner of the interest or transferred to a third party in the same way as an estate in land can. The owner of an interest in land can also protect their interest against a third-party purchaser of the estate in which the interest is held.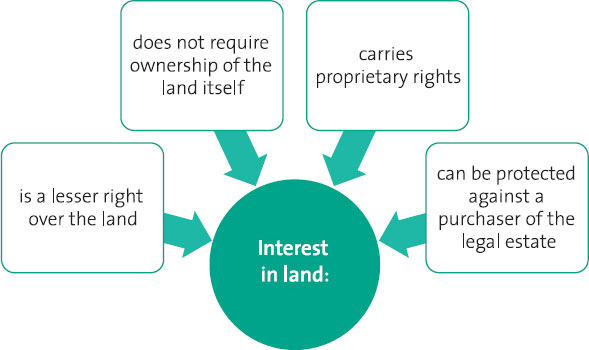 Legal and equitable interests in land
Interests in land can be legal or equitable.
Legal interests
According to s 1(2) of the Law of Property Act 1925, there are five legal interests that can exist over land. These are:
an easement, right or privilege;

a rent charge;

a charge by way of a legal mortgage;

miscellaneous statutory charges;

rights of entry.
Family Law and Estates Intersect
The recent Canadian case of Carrigan v Carrigan's Estate is a timely reminder of the need to ensure that we all keep our financial affairs in order, particularly when there have been changes in our family circumstances.
In this Canadian case, Mr. Carrigan passed away leaving a DeFacto partner with whom he had been living at the time of his death but also a wife from whom he had not been divorced. In that situation, the Canadian Courts were called upon to decide who should receive which elements of Mr. Carrigan's Estate.
Whilst that decision was based on the relevant legislation in Canada, it is a timely reminder to all of us to keep our Life Insurance and Superannuation benefit nominations under review, as well as our Wills, and to amend them if family circumstances change. For advice in relation to Family Law and estates Matters or in relation to the preparation of Wills contact Ian Field on
07 3236 0001 or ifield@aylwardgame.com.au.
Was this article helpful?